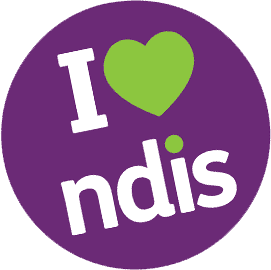 NEW purpose built Day Program in Seven Hills
Enrichment and opportunity
for every individual
Our new Seven Hills Campus offers a bustling and lively day program with an emphasis on community, immersive learning, communication and friendship.
Join us – weekdays, weekends and school holidays
Purpose built facilities & cafe
Build your independent living skills in our commercial kitchen and café.
Develop skills and confidence that can transfer directly into the workplace. Food preparation and safety, barista training, baking and customer service skills. Learn to use the coffee machine as well as the required skills to work in a café.
Plant, grow & eat gardening
Grow and Harvest – learn how to plant and care for plants in a domestic environment. Programs include growing herbs and vegetables for the kitchen. Create and build a recipe book full of meals you like and can make independently.
You are invited
Book your obligation-free visit to our Seven Hills campus now. Enrol and receive one *free therapy session or a free high school leaver's NDIS planning session.
6-Star facilities including a teaching cafe, purpose built spaces and flexible programs. Make new and lasting friendships.
From a colourful underwater lightshow to fun activities with water. The splash room offers an immersive experience where you can learn, interact with water fun time, light shows and sounds. Have your senses stimulated and meet new friends.
Art, digital media, dance, drama
Create, learn and grow through participation in dance, drama, music, visual and digital arts. Explore your creative side in an open and experimental environment. You determine the skills you want to build and develop with the support of our Creative Arts team.
Building ability through individual programs – computing, typing, internet safety, digital media and more. Learn how to use the computer programs you need. Develop skills that you can transfer directly into the workplace.
Night Social Club & events
Make lasting connections with new friends through the relationship skills building program. Join the TJW Night Social Club. Take part in the regularly run social events including our TJW 'members only' nightclub, pubs/clubs/restaurants, concerts, plays, a night on the town comedy shows, cruises and more.
Community skills that help you manage your finances and handling of money, public safety and awareness, travel training, communication and social interaction. Increase your independence and positively interact with people in public.
Yoga, stretching, meditation
Building physical and mental balance through yoga and meditation techniques. Stretching and safety techniques before exercise. Improve your strength, mobility, coordination and flexibility through circuit training. Improving hand eye coordination through ball sports and drills
A typical day at Seven Hills
8:00 – 8:30 Welcome and settle in
Welcome to the day, put your bags away and say hi to friends
8:30 – 10:00 Session One
Cafe and barista training
10:00 – 10:30 Morning Break
Morning tea and social time
10:30 – 12:00 Session Two
Stretch class and dance party
12:00 – 12:45 Lunch
Lunch with new friends, breakout spaces for participants wanting quiet time
12:45 – 2:00 Session three
Splash Room!
2:00 – 2:30 Afternoon break
Afternoon tea and social time
2:30 – 3:45 Session Four
Yoga & strength training
3:45 – 4:00 Packup & Pick-up
Time to pack up and head home
This structure leaves adequate time to participate in multiple activities if preferred. You choose the programs you want for each session, each day.
School Holiday Youth Programs
Kids & Youth Vacation Care is a skills development and recreational service, in a safe and engaging environment, for children aged 7 – 12 years old and young people aged 13 – 17 years.
Get creative through our arts and crafts and cooking activities. Our colourful garden with play equipment offers space for outdoor activities. Activities focus on learning, developing social skills, independence and learning to be a part of a group and working together.
Our programming focuses on the five senses: sight, touch, taste, smell, and hearing. Every activity planned and organised ensures that Kids & Young People are provided with quality services. Quiet, self-regulating spaces provide Kids and Young People attending the program a place feel at ease when overwhelmed.
Kids and Youth Vacation Care will provide a safe and engaging environment that promotes positive wellbeing and outcomes for everyone.  Enrol now email joinus@thejunctionworks.org or call (02) 8777 0500
Come and try a day at our Seven Hills Centre